Post by HERMIONE GRANGER on Sept 14, 2011 19:36:34 GMT -5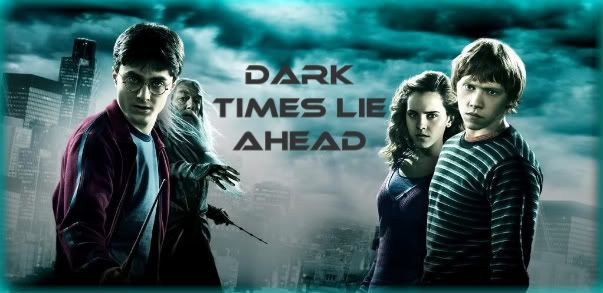 It is the year 1996, another year at Hogwarts. The Dark Lord continues to grow in power ever since his coming back two years prior, making the world known to his presence. Muggles are being attacked as well as wizard families, He Who Must Not Be Named will do anything to regain full power, many are afraid and many Hogwarts students have not returned. Harry Potter continues to find ways to fight against Lord Voldemort, to bring him down with the help of his best friends and fellow Gryffindors Hermione Granger and Ronald Weasley.

Lord Voldemort has formed a marvelous plan, the only reason he could not touch the Boy Who Lived was because of his mother's love. Not only is Lily Potter's love lingering, the love of his friends, of Headmaster Albus Dumbledore and others have kept Lord Voldemort from truly reaching his goal, as a result he wishes to break all bonds with Harry Potter. In order to do this he must start first with his two best friends.

Draco Malfoy has to make his place among the Death Eaters, to show that he is worthy of the mark that he wears, hold up the Malfoy name. His father volunteered him for the mission; his mission would be to gain Hermione Granger's trust in any way that he can. He is worried about how he would be able to do this considering their history. The plan was all a go until, Ravenclaw Kevin Entwhistle stepped up to do the same to clear his family's name with the Dark Lord (his father betrayed Lord Voldemort). Now Kevin is attempting to do the same with the muggle born witch to clear his name. Will Draco change who he is to make her believe him? Will Kevin make up for lost time causing her to trust him? Is there even a chance?

Pansy Parkinson was the obvious choice to go after Ron Weasley, she had it all; the smarts, the gained looks and the determination to be the best. She wants to earn her Dark Mark but never had she thought she would have to become "Friends" with a blood traitor, let alone a Weasley. She was ready to get started but there was a quiet factor in this ploy, her roommate and possible friend Tracey Davis, a Half-Blood Slytherin wishes to have this job. She wants to prove that she is what The Dark Lord is looking for, that she is more than a Slytherin Halfblood, to prove her worth in this world. Who will Ronald trust over his best friend, the one whose shadow he's been standing in for years? Will either girl show the redheaded sidekick that there is more to life than being Harry Potter's no named best friend? Will he even fall for it or stand strong?

Who will get the honor and who will face punishment? Will anyone succeed? Will Harry be on his own when it comes to face Lord Voldemort?
**ACTIVE CANONS NEEDED
*DEATH EATERS NEEDED
*THE WEASLEYS WANTED
*Guys needed.
*200 word limit
*OC accepted
*Many open and intriguing sub-plots
HOME
||
RULES
||
CANON LIST
||
ADVERTISE